CALLING ABBOTT'S MIKE SHEEHY "DEDICATED" TO RAISING MONEY TO FIGHT CANCER IS AN UNDERSTATEMENT – HE'S RELENTLESS.
Mike's mission began when a friend was diagnosed with leukemia. He wanted to do something about it, so he started running – accomplishing not one, but two unbelievable running feats. First, he completed a 500-mile Ultra Run (more than a marathon every day for 17 days), and then he set the Guinness Book of World Records mark for the most miles run in a week at 408.
Mike's inspiring story led Fortune magazine to recognize him as one of the "Heroes of the 500," which highlighted 55 employees at Fortune 500 companies who are doing extraordinary things to help others. This is the 2nd consecutive year that an Abbott employee was featured on the list – pointing to the broader impact many Abbott employees have in helping others lead better lives through health.
During his 500-mile Ultra Run from San Diego to Phoenix, Mike visited hospitals along the way to thank doctors and nurses, and visit with patients going through cancer treatment. When he arrived in Phoenix, he wanted to do more to continue raising funds – so he planned and ultimately embarked on his seven-day run in San Diego to break the previously set Guinness World Record for most miles run in a week. During the record-breaking week, Mike constantly promoted the cause, met with survivors, and shared his story. Proceeds from both runs raised nearly $80,000 for the Leukemia and Lymphoma Society of San Diego.
Mike later set a separate goal to run all the major marathons – now known as the Abbott World Marathon Majors* series – in a calendar year. After completing the first four races in Boston, London, Berlin and Chicago, the race in New York was cancelled at the last minute as a result of Superstorm Sandy. Undeterred, Mike turned the setback into another opportunity to help, volunteering with fellow runners to help storm victims by handing out supplies with the National Guard and FEMA.
Looking ahead, Mike is embarking on a new adventure – something that will take him "full circle" to how he began running and pushing limits in the first place. Long before he began doing Ultra Runs, Mike grew up in a military family, and later graduated from West Point and served in the 75th Ranger Regiment. With a father and three brothers also serving in the military, and countless friends serving overseas, he saw first-hand the physical, mental and emotional challenges that soldiers face when they come home from the battlefield. That's why he's looking forward to hitting the road again – this time, running to help raise awareness, and funds, for veterans and their families.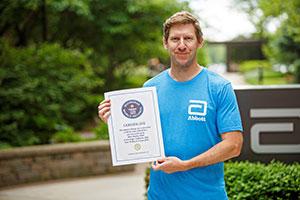 Abbott's Mike Sheehy holds the certificate for his Guinness World Record for most miles – 408 – run in a single week.
ABBOTT 'HEROES' WHO GO THE EXTRA MILE
Whether it's through company programs or personal volunteer initiatives, Abbott employees around the world transcend nine-to-five hours to make life better for others. Here's just a few examples, with links to additional information:
Dan Schmitz shares his nutrition science expertise to help leading non-profit Partners In Health (PIH) to fight malnutrition in Haiti. Dan and a broader team of more than 50 Abbott experts helped PIH build a new nutrition facility that produces Nourimanba, a locally-sourced, peanut-based medical product that fights severe malnutrition in children. Dan's story was covered by Fortune in last year's "Heroes of the 500."
Barbara Marriage and Courtney Allgeier conduct nutrition research for infants, children and new mothers – but the part of their work that drives them to "go the extra mile" is their work to help children born with rare metabolic disorders. Find out more about Barbara and Courtney's efforts to help children not just survive, but thrive.
For more examples of how Abbott employees are unlocking the power of health to build a healthier, thriving society, please visit our global citizenship website: www.abbott.com/citizenship.