Ever wonder if where you live influences your taste buds?

It's just as much about culture—our shared history, habits, and meaning—as what we experience in our mouths when we eat and drink. Think of it as a type of common language. With a new pilot plant in Singapore, Abbott scientists can now test smaller quantities of nutrition products, quickly adjusting them based on consumer feedback. It's all about giving people in Southeast Asia—and around the world—palate-pleasing flavors and tastes while meeting their evolving health and lifestyle needs.
 
This $24 million state-of-the-art facility – only Abbott's second nutrition research and development hub outside Columbus, Ohio – is called a "pilot" because its smaller size allows for developing, testing, and identifying new products and formulations that satisfy Asian consumers' specific tastes.
Abbott's nutrition business now has 14 worldwide manufacturing plants. But "their size is so big that doing any type of experimenting becomes hard to break into the schedule, and becomes very expensive," said Dr. Rob Miller, divisional vice president, R&D, Scientific and Medical Affairs.
The new pilot plant—with R&D, engineering, manufacturing, and quality housed under one roof—is 1/20th the size of Abbott's Singapore manufacturing plant. And, said Dr. Gary Fanjiang, divisional vice president, Abbott Nutrition Asia Pacific R&D, "it allows us as scientists and innovators to tinker with our products before touching our manufacturing facilities. It really allows us to optimize on a much smaller and faster scale. Flavor is a great example of that."
The pilot plant—the fourth of Abbott's nutrition R&D facilities in Asia—also speaks to the company's commitment to the region.
With sensory labs in all of its R&D facilities, Miller said Abbott's nutrition scientists now "can test the same flavors around the globe on a 24-hour basis. One of the key things is we know sweetness varies around the world." That allows these experts to modify products' taste while still meeting compliance regulations that vary from country to country—and ultimately helping consumers improve and maintain their health.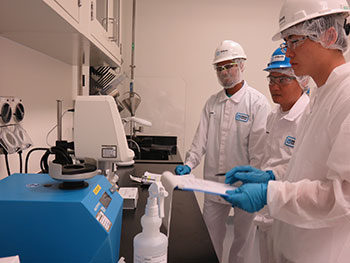 At the new Singapore pilot plant, Technician Wang Xianfeng, Senior Engineer Bao Huynh, and Senior Technician Wahn Ahmed Fahmi verify test instruments in preparation for a research trial.  

Working with flavor house partners around the world, said Miller, "our internal network can tap into multiple external networks across the board, at the same time." That's allowed the team to develop, for example, almond saffron-flavored PediaSure in India.
WHAT MAKES A REGION'S TASTES UNIQUE, ANYWAY?
When it comes to culinary aesthetics, said food anthropologist Ken Rubin, "Your sense of taste is very, very much a cultural thing. Biologically, we like sweet and salty and soft foods. Culturally, we develop certain frameworks for other foods we like—spiciness or crunchy textures. Just like language, food culture is reproduced when you raise children, participate in family or social structures."
Besides, local flavors and tastes "gives you a real snapshot of place," said Portland, Ore.-based Rubin, who chairs the International Association of Culinary Professionals' Culinary Trust and is vice president of culinary training for the online Rouxbe Cooking School, with students in 160 countries. "Where it becomes interesting is that within a place you get incredible attributes of living culture that shift and define it over time."
That's true across Asia, where flavor profiles run the gamut. "In general," said Fanjiang, "the taste profile in China runs less sweet. They like salty, and flavors that are complex. Even within China, there are regional differences. Hong Kong and Shanghai are probably the two cities in China that run a little sweeter. In Vietnam, they like (flavor) complexity, but more mild. In India, they like sweet, but strong, robust flavors. There are very dense populaces, and each of them has its own dialects and taste preferences."
But Abbott doesn't only pay attention to local taste preferences in the nutrition space. The company's branded generic pharmaceuticals business does the same. In India, for example, its Digene antacid brand is available in gel, chewable tablet and powder forms, in popular flavors that include orange, mixed fruit, strawberry, and pudina, or mint. Likewise, the team knows which flavors to skip when offering medicines in certain countries. Super-sweet ones don't go down well in Ecuador; mint is a miss in Indonesia and South Korea. And licorice-like anise is less than popular in Kazakhstan.
SATISFYING INCREASINGLY GLOBAL CONSUMER PALATES
At Rouxbe, where anthropologist Ken Rubin teaches, cooking students learn about "flavor families" found within certain global cuisines. It's why you'll find chili, lime and cilantro (coriander) in both Thai and Mexican cooking, but the ingredients play out differently. "You see a lot of similarity and overlapping, but they're developing, coaxing, and piloting flavors in different ways," said Rubin, who sometimes puts his anthropological skills to work as a consultant for consumer food and beverage companies.
"The real key (comes) from doing actual research in people's homes, not (only) in an R&D lab, because people don't eat off white plates staring at white walls. Take it out of the lab and make it as culturally relevant as you can."
And that's just what Fanjiang's Abbott R&D staff—which hails from 20 countries across Asia and beyond—is doing in Singapore. "Being able to bring their personal and family experiences is extremely valuable," he said. "It complements their scientific expertise. (But) just being from a certain country or region is not enough. We spend a lot of time going into the field to understand what's happening. There are home-use tests where we have consumers experience our products for one or two weeks at a time."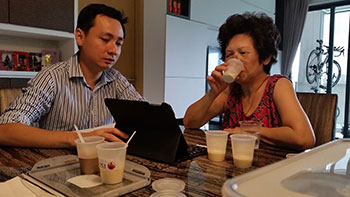 One of about 70 consumers taking part in an Ensure Products Taste Survey, Sin Inn Hong (right) tries a potential new flavor in her Singapore home while Abbott Nutrition R&D Sensory Scientist Jun Jie Lau looks on. The survey included consumers 50 years and older.

Thanks to globalization—and taste trends that shoot around the globe at warp speed—it's about as easy for folks in Hanoi, Vietnam, and Houston to sample the same foods at the same time. Fanjiang said flavors produced at the Singapore pilot plant—which take three months to go from concept to human tasting—will include regional favorites such as melon and kesar badam (saffron almond).
"Certainly, the access to global trends makes our job easier. It's also easier for us to globalize something that starts local. But it also can be a bit of a double-edged sword, because the world is changing so rapidly. That's another reason the pilot plant is so vital. It really enables us to know our local customers and know their preferences."
Despite the high-tech innovation, sensory panels, focus groups, and market research, said Fanjiang, "a lot of the flavors we create we don't necessarily launch." Among those in the possible portfolio: ginger, coconut, red bean, grain, black sesame rice, masala tea, malted milk, and honey lemon.
"Our scientists are ecstatic because it gives them the opportunity to explore more flavors and the flexibility. The Asia pilot plant was the missing puzzle piece."
To hear Abbott's Dr. Rob Miller on customizing nutrition flavor for global markets on WBEZ-FM's "Worldview," click here.