Abbott Introduces Similac® Advance® Non-GMO Infant Formula in the U.S.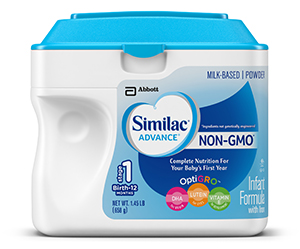 Abbott is introducing Similac Advance Non-GMO, the first and only non-GMO labeled formula in the U.S. from a leading infant formula manufacturer. The addition of the non-GMO formula is not replacing any existing Similac products. It's an extension of the U.S. Similac portfolio to give parents another formula choice for their baby.
"We're a science-based company and, to us, the science on GMO ingredients is clear – they're safe," Chris Calamari, general manager, U.S. Pediatric Nutrition, Abbott, said. "And we also pay attention to what our consumers want. We agree with the U.S. Federal Drug Administration that GMO ingredients are safe; however, a growing number of moms and dads asked us to create a non-GMO option for them and we have."
Similac Advance Non-GMO has the same ingredients as Similac Advance, which was developed based on the latest science and is our closest formula to breast milk. Some of the ingredients in the non-GMO option are simply from different sources – from crops not genetically engineered.